Artist Profile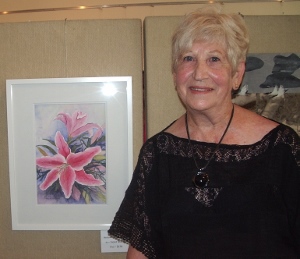 I originally started painting at the TAFE College, Broken Hill. My art teacher was American, Clark Garrett.
I was taught by him until we moved to Adelaide in the early eighties.
In Adelaide I joined the Tea Tree Gully Art Group at Modbury. I was a member of this group for many years during which time I also attended several art classes at WEA.
Over the years I have enjoyed tuition from well-known artists including Gail Griffith, Michael Sweeney and Elizabeth Gartner.
I have been a member of 'Off The Couch' for several years and thoroughly enjoy the support and friendship of the group.
Exhibition Sales
'Bush Rangers of the Bush', TAFE, Broken Hill
Port Adelaide Rotary Art Exhibition, Port Adelaide
Glenelg Rotary Art Exhibition, Glenelg
Kapunda Art Exhibition, Kapunda
Claire Art Exhibition, Claire
Victor Harbor Art Exhibition, Victor Harbor
Tea Tree Gully Painting and Ceramic Exhibition
22 GOLDEN GROVE ROAD, MODBURY NORTH, South Australia