Artist Profile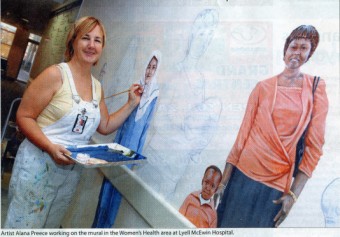 Art for the Heart and Soul.
Born in Tasmania in 1955 and living there for 30 years, I developed a deep love of the natural environment - its colours, textures, light and space.
While studying at the Tasmanian School of Art in the 70's, extensive travel to the Top End of the Northern Territory further enhanced my growing awareness of the way in which light and colour define the spaces in which we live.
From high school teacher, to graphic artist, to mother of 3 sons (including single parenting for many years), my art developed through a heartfelt depiction of life around me to an exploration of my ideas about heart, mind, body and soul.
Today, living with my partner and working from a Redwood Park studio, I continue the sensitive use of colour and light, inviting the viewer to enter a place where peace and harmony may be found, encouraging an awakening of the senses.

My work is sought after for its beauty, calmness, therapeutic and uplifting qualities. The mural work has been particularly requested by hospitals and special schools.
I have won many prizes for my work and am represented in public and private collections throughout Australia and overseas.
Email Contact: alana_preece@hotmail.com
Alana's artwork can be viewed at www.alanapreece.com
22 GOLDEN GROVE ROAD, MODBURY NORTH, South Australia