Artist Profile.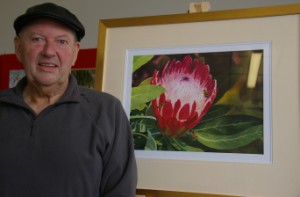 I began my artistic journey in oils, but soon discovered the allure of watercolours.
As a self-taught artist, I studied the styles of the masters, both past and present. This has equipped me with the techniques, nature provides an abundance of subject material and inspiration.
My passion for capturing glimpses of nature and painting them in clean, clear colours as in nature is the aspiration that drives me to strive for growth and development as an artist.
Awards
1st, 2nd, 3rd in Tea Tree Gully Art & Ceramic Exhibitions
Finalist, Australian Artist Art Challenge 2010 and 2012
Finalist, Waterhouse Natural History Art Prize 2011
Finalist & Highly Commended, Mortimore Art Prize
Exhibitions
National Wine Centre
Mildura Regional Visitor Centre (4 birds & a bloke)
Gallery M (Marion Cultural Centre)
Stationmasters Gallery, Strathalbyn
City of Tea Tree Gully Art & Ceramic Exhibition
Blackwood Rotary Art Exhibition
Campbelltown Rotary Art Show
Victor Harbour Rotary Art Show
Maxwell Winery McLaren Vale
Waterhouse Natural History Art Prize
Mortimore Art Prize

Published
Article published Australian Artist Magazine, March 2010

Email Contact: glimpses@iinet.net.au
Brian can also be contacted through: Stationmasters Gallery or Gallery M
Brian's paintings can also be viewed at www.briangarner.com.au
22 GOLDEN GROVE ROAD, MODBURY NORTH, South Australia