Artist Profile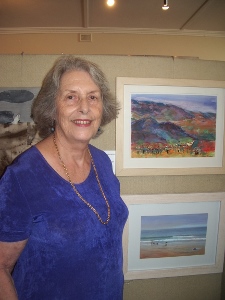 Kay's art journey began when she turned 60. She began extending her knowledge of pencils beyond a 2B and HB and this led her to explore other mediums – sculpture, ceramics, printmaking and painting.
Through the exploration process she has attended workshops and classes in various locations including Marden Senior College and Adelaide College of Arts (Bachelor of Visual Arts and Applied Design).

Her 2D artistic endeavours have encompassed Plein Air painting, life drawing and painting. She has worked in many mediums – charcoal, pastel, pencil, watercolour, acrylics and oils.

Kay is a member of the Royal South Australian Society of Arts, Campbelltown Creative Arts Society and Pepper Street Portrait Sketch Group.


"There is so much in my memory that I want to express, and with the help of other inspiring artists I will continue to grow".
Email Contact: naturallyhealthy@westnet.com.au
22 GOLDEN GROVE ROAD, MODBURY NORTH, SOUTH AUSTRALIA