Artist Profile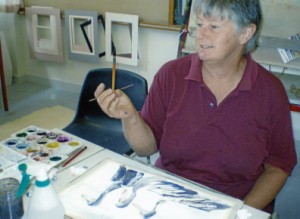 Joe lives on a farm at Mount Pleasant where she and her late husband retired from full time farming with sheep, cattle and cut flower production. Now with a smaller farm she continues to raise sheep for wool and lambs. Joe has always loved drawing and painting since early childhood. Since retiring she has been able to put more time into her artistic bent. After leaving school, she attended Gawler TAFE classes in general craft activities, but pottery came to the forefront and she has been making functional stoneware pottery ever since. She built her own kiln on the farm where she spent any spare time pursuing her passion, exhibiting in local shows and various galleries. The highlight was winning Tea Tree Gully Art Prize in the ceramic section a couple of years ago and making and selling medieval pottery at the Gumeracha Medieval Fair.
When it comes to painting, pastel has to be her medium of choice, but she also works with acrylic, watercolor, oils and charcoal. She belongs to the Pastel Artists of South Australia, is a member of Top of the Torrens Gallery, Birdwood, Kapunda Community Gallery and Pepper Street Art Center, Magill.
Competing in various rotary art shows she has been rewarded with several highly commended awards, including one at the RASA solar art prize.
Joe has attended workshops with Regina Hona, Ross Patterson, Maxwell Wilks, Tricia Taylor and Karol Oakley, all highly respected artists in Australia. Currently she is doing an online art experience and challenge with Karol Oakley, based in Queensland, which is really educational and has helped her solve many problems with her paintings. Joe has a studio on the farm and spends many hours painting. On Wednesdays she is joined by a few other budding artists where they spend the day helping one another and generally having a grand day out. Her other ''like to do" thing is to paint outdoors, recently returning from a five-day session in the Flinders Ranges. She enjoys painting from nature and this is from where her inspiration comes.
22 GOLDEN GROVE ROAD, MODBURY NORTH, South Australia