Artist Profile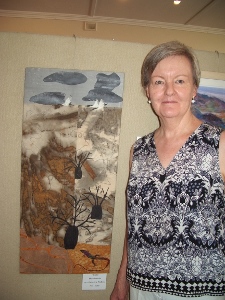 Catherine spent her early childhood years in Africa – Kenya and Sudan.

At 7 years of age she moved with her family to Suffolk, in the North East of England, an area of flat, open country with big sky scapes and distant horizons. It was living on the farm in Suffolk, that Catherine began her love of the natural world and landscapes.
When she came to Australia with her husband and young son in 1971, she found the same sense of space and openness in the landscape that she had experienced in her childhood.

Her interest in landscape painting was again stimulated in the 1980's, when she inherited 3 landscape paintings from a great aunt.
In 2009, through always having had an interest in fabric and sewing, Catherine took a course in textile art. It was through this she realised a need to develop her drawing skills.

In 2012, she completed a Certificate 3 in Painting and Drawing at Marden Senior College. Since then she has completed several short courses at Central School of Art, Norwood. Catherine also attends weekly art classes at Noah's Art Holden Hill.

Catherine remembers buying her first camera when she was 10 years old and her joy in taking photographs of the local flowers and birds, something she still gets much pleasure from. She also enjoys walking, sewing and reading.

Catherine likes working with a variety of mediums and enjoys the challenge of developing new skills.

She a relatively new member of Off the Couch Art Studio and is also a member of the Pastel Artists of South Australia.
"The inspiration for most of my work is the natural world. Learning to observe more closely the things we take for granted or hardly notice has heightened my appreciation of the interconnectedness, balance and beauty inherent in the natural world. I enjoy the challenge of developing new skills…I have just begun using watercolour and am fascinated by how the watercolour 'works' to create a desired outcome."
Email Contact: catherine.watkins88@gmail.com
22 GOLDEN GROVE ROAD, MODBURY NORTH, SOUTH AUSTRALIA