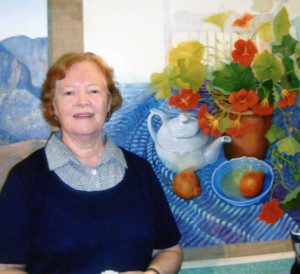 Artist Profile

Hazel was born in London. She attended Art School in London in the 50's before coming to
Australia in 1962.

In Australia, Hazel was a high school art teacher for 25 years, teaching in various schools in South Australia.
During this time she studied art in the evenings at the South Australian School of Art,
Stanley Street, North Adelaide.
During this time she also studied at Torrens College and gained her Diploma of Education.
In 1982, Hazel resigned from teaching to pursue her art full time. She took up studies at
North Adelaide School of Art, where she gained an Associate Diploma.
Hazel has been working from her own studio in Highbury, South Australia for many years.
She paints mainly in oils, but she also enjoys using charcoal. These mediums fulfil her love of colour and line.
Hazel's subjects range from still-life to compositions of whimsical images drawn together to form imaginary landscapes.
Hazel has won a lot of prizes for her work and has exhibited extensively across Adelaide and South Australia.
Her work is in collections throughout Australia and England.

Exhibitions
Barry Newton's Gallery, SA
Pepper Street Art Centre, SA
Royal Art Society of South Australia
Hilton International South Australia
Campbelltown Art Show, SA
Burnside Art Show, SA
Tea Tree Gully Painting and Ceramic Exhibition, SA
Walkerville Art Show, SA
Port Adelaide Art Show, SA
Victor Harbor Art Show, SA
22 GOLDEN GROVE ROAD, MODBURY NORTH, South Australia